Ever felt like holding a baby forever because they smelt so heavenly? Chances are the parents use baby shampoo on them and there is some calming effect that comes to mind.  Baby shampoo is gentler than adult shampoo, and yes, we can use it on our hair as well. It smells so nice on baby's soft fur, and most adults find themselves often drawn into the sweet scent and trying out baby hair products.
Manufacturers of baby hair products use mild ingredients that are non-irritants in the production of baby shampoo due to their sensitive and delicate skin. Adult hair products, especially shampoos, are sometimes manufactured with harsh chemicals that strip the hair of its natural oils and harm the scalp as well. Due to their tender chemical-free properties, more adults with sensitive skin prefer to use baby shampoo for their hair and scalp.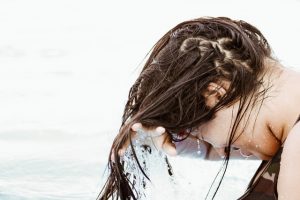 Can Adults Use Johnson &Johnson Baby Shampoo
Adults can use Johnson baby shampoo for a gentler wash and softer feel. Johnsons & Johnson is a trusted and popular baby products brand. And for a good reason. The "No More Tears" line of products is mild and gentle to the eyes as water is and soap-free to prevent irritation. In addition, it's dermatologically tested and proven to avoid allergic reactions and skin or scalp infections. And since babies have the most delicate scalp, it's gentle and leaves their hair soft, silky smooth, and healthy.
Johnson's baby shampoo is safe and can be used on natural hair, coloured hair and chemically treated adult hair. It does not harm adult hair as it is sulphate free and hence helps retain natural oils keeping the scalp irritant-free. Furthermore, it works as a nourishing conditioner for both baby and adult's hair.
Johnson's baby shampoo is less expensive compared to most adult shampoos. Not only does it have a mild but sweet smell, it leaves the scalp less dry compared to adult shampoos. Adults will have to use a considerably more amount when washing their hair to get a good lather going, as it is typically made for baby's light and soft hair.
Benefits Of Using Baby Shampoo
Baby shampoo has numerous benefits on adult hair. The harsh chemicals used in producing adult shampoo have adverse long-term effects on our hair, and that's why more grown-ups are turning to baby shampoos.
Baby shampoo is said to slow down the thinning of hair and even balding that is commonly caused by adult shampoos.
Adults with sensitive skin and scalp will enjoy the gentleness of baby shampoo and notice fewer skin flare-ups from chemicals that irritate the skin.
Which Baby Shampoo Is Best For Adults?

This natural plant-based product is gentle on baby's scalp, eye irritation-free. It is chemical-free and is highly rated for use by many mothers and can also be used on adult's hair.

This baby shampoo is produced from natural herbs and essential oils. It is ideal for sensitive skin and is suitable for both babies and adults. It is made from natural ingredients like Coconut oil, aloe vera, sweet almond oil and jojoba, which are excellent moisturisers for the skin.

This fragrance-free foam shampoo is made from 99% natural ingredients. Avocado extract is one of the elements used, which is a natural product that softens the scalp and maintains healthy hair. It gently cleanses and soothes cradle cap on babies and can be used by adults as well.

This super-sensitive formula is perfect for a gentle wash. It is a vegan wash with plant-based cleansing agents. Free from chemicals like sulphates and betaines. If you are sensitive to scents, this product has is scent-free and perfect for you.

A toxin-free hair and body wash, a plant-based soothing and nourishing product that is gentle on extra-sensitive skin and scalp. Has a delicious citrus smell, is tear-free, gluten-free and biodegradable. Parents trust it for babies and adults alike.
This product contains natural Oat extract, which is known for its nourishing and soothing properties. This hypoallergenic wash has a light fragrance and is suitable for adults as well.

Sulphate-free shampoo infused with rosemary, arnica and calendula. The natural ingredients used help clean all the oil build-up, detangle and condition the hair, leaving your hair well moisturised and feeling fresh. It has a beautiful smell as well.

This mild and fragrance-free baby shampoo is made of saponified organic oils such as palm oil, olive, coconut and sunflower. It is soft and effective, and its lack of fragrance reduces skin irritation and eczema. Safe to use on babies and adults alike.

This all-time favourite and popular baby shampoo is pediatrician and dermatologist tested and approved. It's No More Tears formula is gentle on baby's sensitive eyes and ensures bath time is irritation and tear-free. It has a fresh smell and gently cleanses baby's delicate scalp. Adults can also use it.

This product is made with ingredients derived from plants and minerals; this tear-free product is gentle on delicate skin and is excellent for everyday use. It comes in two options, fragrance-free or lightly scented. If it is right and safe to use on baby's skin, it is good enough for adults as well.
Disadvantages of using baby shampoo for adults

Although adults can use baby shampoo for everyday hair wash, you may find there are a few differences from adult shampoo. Baby shampoo is made for delicate and sensitive baby's scalp and skin. The ingredients used are mild and perfect for babies, and as a result, may not clean adult hair as well as expected.
Adult hair has a lot of oil residue and hair product build-up and requires a good lather to get it clean. Due to their mild nature, baby shampoos do not lather as much as adult shampoos, and you may have to wash your hair several times to get good results.
Other uses of baby shampoo
Apart from washing babies and adult hair, baby shampoo can be used in other ways around the home.
Use it on your face
Baby shampoo is gentle on skin enough that it can be used every day to wash the face. You can use it to remove eye makeup & mascara, and as a body wash after working out in the gym. It is suitable for skin that breaks out fast or people that are easily prone to eczema.
Shampoo the dog
Our furry pets will love this gentle wash on their sensitive skin and will leave them smelling good.
Wash make up brushes
It's essential to clean out makeup brushes to avoid build-up of bacteria. Wash them with warm water and a few drops of baby shampoo every week. Rinse with cold water and leave them out to dry completely before use.
Wash woolen items
Hand wash your wool clothing with baby shampoo and lay them flat to dry.
Clean leather furniture, jackets & items
You can wipe down your leather furniture, handbags and even shoes using baby shampoo, and it will not destroy it as it does not contain harsh, destructive chemicals. Use a damp cloth, a few drops of baby shampoo dissolved in warm water and dry with a soft towel.
Clean the floor
When moping the floor, harsh chemicals can be harmful to the hands. Therefore, baby shampoo can be used as an alternative to conventional household detergents. Use a few drops of baby shampoo in water to wash oil spills and everyday mess from the floor. It will leave your floors sparkly clean.
Shaving cream
If you suddenly run out of shaving cream, use baby shampoo to lather up your underarms, face or legs to get a clean and smooth shave.
Clean greasy surfaces
Our kitchen countertops and stoves are prone to be greasy or oily from cooking, and you can use baby shampoo to clean them easily. Use a cloth and warm water to wash out the mess.
Wash the car
Using a bucket and a soft cloth, mix water with a generous amount of baby shampoo to get a gentle foam going to wash the exterior of your car.
Baby bath time games
Babies, primarily toddlers, are known to be fussy during bath time. Moms are always finding new ways to make bath time easy and cheerful for their children and themselves. You can use baby shampoo to make bath bubbles that will fascinate your baby. Use a few drops of baby shampoo on your hand, mix with water and blow bubbles towards your child to bond and have fun with them.
Conclusion
Baby shampoos are proven to be safe to use on adult hair and will leave your hair moisturised and silky smooth. Try out a few products, look out for the ingredients you are comfortable using. If you are still not convinced, you can always switch back to adult hair shampoos.