Yay, you're pregnant! Congratulations. Now we need to tell the world the good news and have them celebrate with you. Here are some of the ways to announce pregnancy on social media.
Prepare for the reactions
The decision to announce your pregnancy is entirely personal. Some people choose to keep it a secret; some tell their immediate family and friends.
Others don't have a worry letting the whole world know. Letting your loved ones know that you're expecting is just as exciting as discovering that you're pregnant.
But before you announce your pregnancy on social media, remember some people might not be nice with their comments. The good thing about social media is everyone has a voice. And the bad thing about social media is everyone has a voice.
It's important to be convinced that this is the route you want to take. And also remember that words don't break bones. Concentrate on the many good people who genuinely love you and wish you nothing but the best.
Creative ways to announce pregnancy on social media
The way you choose to announce your bun in the oven will depend on several factors. Is this your first baby? How much information do you want to divulge? What are you comfortable doing, and what would you not be caught dead doing?
Once you have all that figured out, try some of the following tactics to make the big announcement. 
Get the siblings involved
If this is not your first baby, getting the siblings involved is always fun and sometimes dead right hilarious. This can also be a surprise for the siblings as well. Their reactions will ease the tension that may arise from just posting 'I'm pregnant' on your timeline.
Post a video of you revealing to the other baby or babies that you're pregnant. The video can be recorded or done live to capture real-time emotions.
If you had informed the siblings earlier, do a photoshoot with them holding placards. You can be as creative as you'd like with the placards. Let people look at it twice and think, "What?"
My all-time favorite one is the one with a toddler holding an eviction notice from the baby cot. I did it for my second baby announcement.
Let the pets help  
There's one hilarious video of a wife revealing to the husband that she's pregnant. The husband points at the dog and says, "But we have a baby!"
Pets are ideally our first babies. They also seem to have a say about the new family addition. Some dogs become very possessive and protective of the new baby when he arrives. How about having the pets doing the announcement for you?
Since dogs don't talk, photos would work best. You can post your dog or cat wearing a 'big brother T-shirt.' Alternatively, take a picture of the pet lying next to a tiny pair of shoes.
If you'd like to add some humor to your photo, include clever captions of what the pet might be thinking.
Post photos of tiny clothes or shoes
This one is one of the easiest ways to announce pregnancy on social media. Pictures make it easy for people to deduce what you're trying to say.
A picture of a tiny onesie or pair of shoes will have people going 'Awwww.." on your wall. Putting no caption lets the photo speak for itself.
This can also be used to reveal the pregnancy to your loved ones. Take a video of you presenting your dad or husband with a tiny jersey and watch their mouths drop in astonishment.
If you're further along and you already know the gender, reveal this by choosing a revealing gender outfit.
Choose a tiny dress for a girl and a pair of shorts for a boy. You can also do this by choosing the gender colors blue or pink.
If you'd like to save the gender reveal for a later time, choose gender-neutral colors such as purples, whites, and yellows. The gender reveal can be a whole other announcement later.
Baby bump photoshoot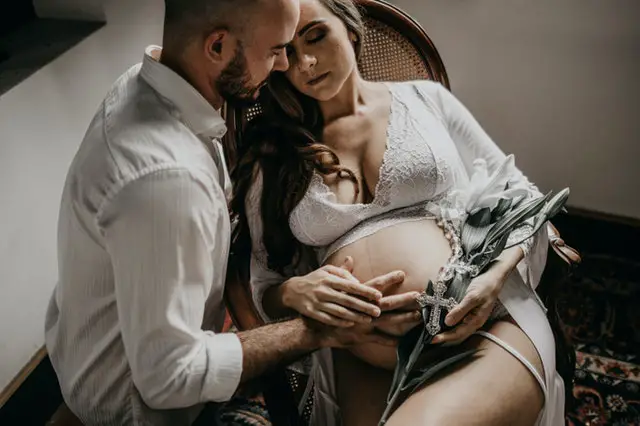 Doing a baby bump photoshoot is one of the cute ways to announce pregnancy on social media. In recent times, pregnant moms have gotten bolder in their baby bump photoshoots.
The days of maternity dresses that looked like nightgowns are gone. If you're comfortable doing a bare bump shoot, then go all out. Beyoncé started us off with the revealing bump shoot, and the world got used to it.
Sharing gorgeous photos of your baby bump is a very personal way to announce the pregnancy. You're inviting people to your little world and letting them catch a glimpse of it.
The photos will also be a wonderful memory, and you can frame them and add them to your wall hanging collection.
Involving the whole family in the baby bump photoshoot makes it more fun and exceptional. Photos are the trove of memories that we can visit from the future. Images of your partner kissing your belly while your dress flies in the wind will leave people mesmerized.
Put no caption, and don't forget the now-famous crown of flowers.  
Let the ultra-sound images speak
Sometimes, giving the world a glimpse of the baby in your belly is one of the best ways to announce pregnancy on social media.
You could just post the ultra-sound with a clever caption or no caption at all. This can also be a time to reveal to the world if you're expecting multiples. 
Do you, mama!
As you make your choice from the above ways to announce pregnancy on social media, do what works for you.
This is supposed to be an enjoyable exercise for the whole family. Do not be under any pressure to do something that you feel you aren't comfortable with.
The social media site to use should also be the one that will reach the people you want to reach and engage with them. Remember the internet doesn't forget, post only what you'll still be proud to see in 10 years.
WANT TO REMEMBER THIS POST? PIN IT FOR LATER
RECENT POSTS